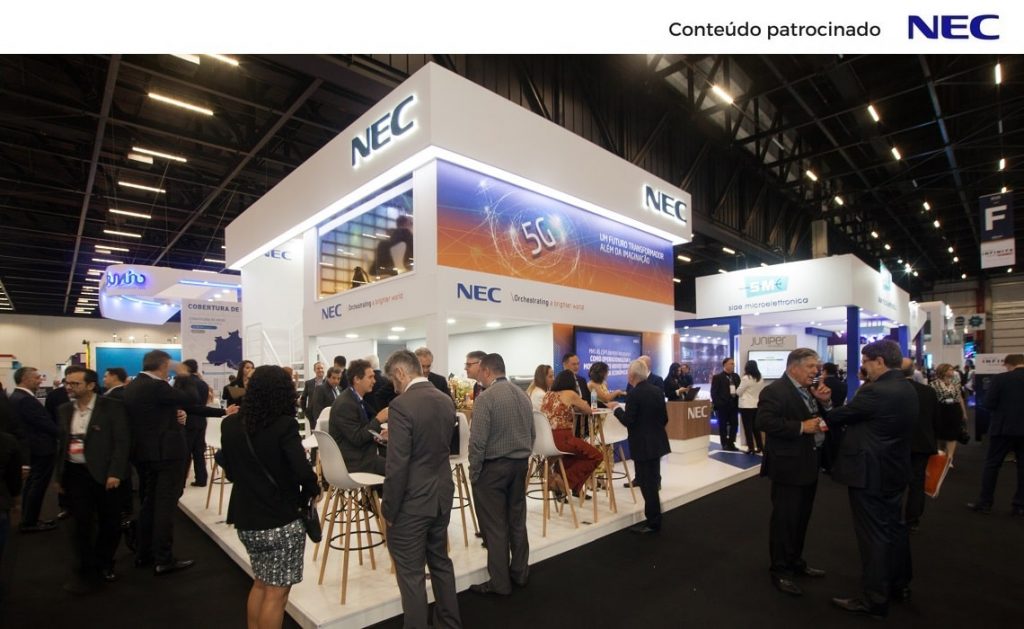 Durante o Futurecom 2019, a NEC apresentou o seu ecossistema de 5G e demonstrou como a tecnologia será importante para o país e o mundo.
Assim, com parcerias estratégicas, a multinacional japonesa deu uma mostra da expansão da internet das coisas (IoT) e da quinta geração das comunicações móveis (5G).
"São áreas em que é importante firmar parcerias", afirma Eduardo Ribeiro, gerente de Desenvolvimento de Novos Negócios da NEC Latin America.
"Estamos agregando novos parceiros ao nosso ecossistema. Queremos trazer soluções que já estejam bem formatadas para próximo de nós."
Ecossistema da NEC
Primeiramente, no estande da NEC na Futurecom, foi possível conferir algumas das soluções desenvolvidas na área de IoT por parceiras.
Dentre os principais destaques, estão startups como a Salvus e Modulus One.
"O IoT, atualmente, funciona bem em outras redes que não sejam o 5G desde que não necessitem de resposta em tempo real. Por isso, é importante continuar a trabalhar em soluções que agreguem valor aos clientes", diz Eduardo.
"No futuro, quando o 5G chegar, iremos conectar tudo e apostar até mesmo em soluções mais sensíveis, que demandem respostas em tempo real."
Soluções
A Salvus, uma das parceiras, desenvolveu um sistema de monitoramento dos níveis de diversos gases consumidos em hospitais, como o oxigênio.
Enquanto isso, a Modulus One apresentou um sistema, desenvolvido por ela, para iluminação inteligente em cidades.
"Ampliamos nossa capacidade com nossas parceiras. Diversificamos nossa atuação", diz o executivo.
Todas elas, por enquanto, operam de maneira independente. Mas Eduardo afirma esperar o dia em que elas se unam ao redor de um sistema de inteligência artificial da NEC, o NEC the Wise.
"A NEC é uma empresa presente no mundo inteiro. No Brasil, há 50 anos", afirma o executivo.
"Temos presença em todas as grandes operadoras. Este é o filé para dar o start desse segmento."
Conexão inteligente
Além disso, a NEC está falando com as principais operadoras do País para trabalhar em conjunto na entrada do mercado de 5G.
"As operadoras são as grandes habilitadoras do IoT e do 5G, pela estrutura que elas têm. Atingem todos os rincões do País e com sua capilaridade podem entregar qualquer tipo de serviço de Internet das coisas", disse o executivo.
Depois, para unir todas as tecnologias, a empresa se posiciona como orquestradora de soluções a partir da plataforma de inteligência artificial NEC the Wise, que integra diversas verticais de negócios, tais como saúde, cidades e indústria.
Assim, ela suporta as operadoras e provedoras de comunicação para abrir caminho para a integração e fornecimento das tecnologias.
"Estamos desenvolvendo um sistema integrado de tecnologias com startups, operadoras, grandes empresas. É um grande passo rumo à automação e inteligência dos serviços", sintetiza Eduardo.
"A NEC está preparando o ecossistema para a vinda das novas tecnologias."